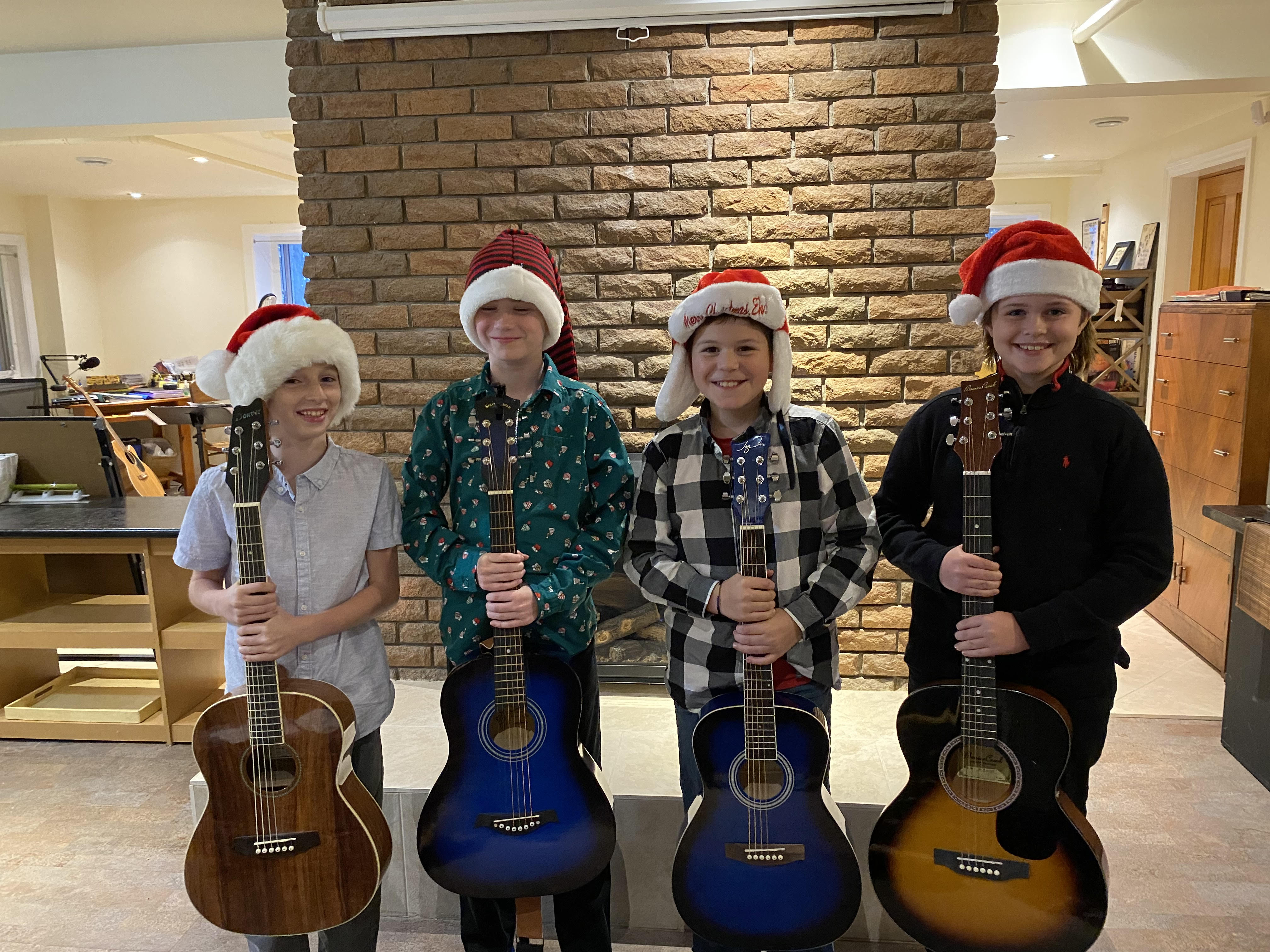 Hunter Morash, Cooper Gillespie, William Blanchard, & Nate Wilson
Hunter Morash is 11 years old. He is in grade 6. He enjoys hockey and parkour.  He loves to help others out. :) 
Cooper Gillespie is 11 years old.  Started guitar last year.  He's in grade 6 at AG Ballie.  He likes hockey, track, and video games. 
William Blanchard is 11 years old and is from Little Harbour. This is his second year in guitar, he loves to play hockey and is looking forward to joining Sea Cadets in the New year! 
Nate Wilson is 12 years old and is in Grade 6 at Trenton Middle School.  He enjoys baseball and hockey.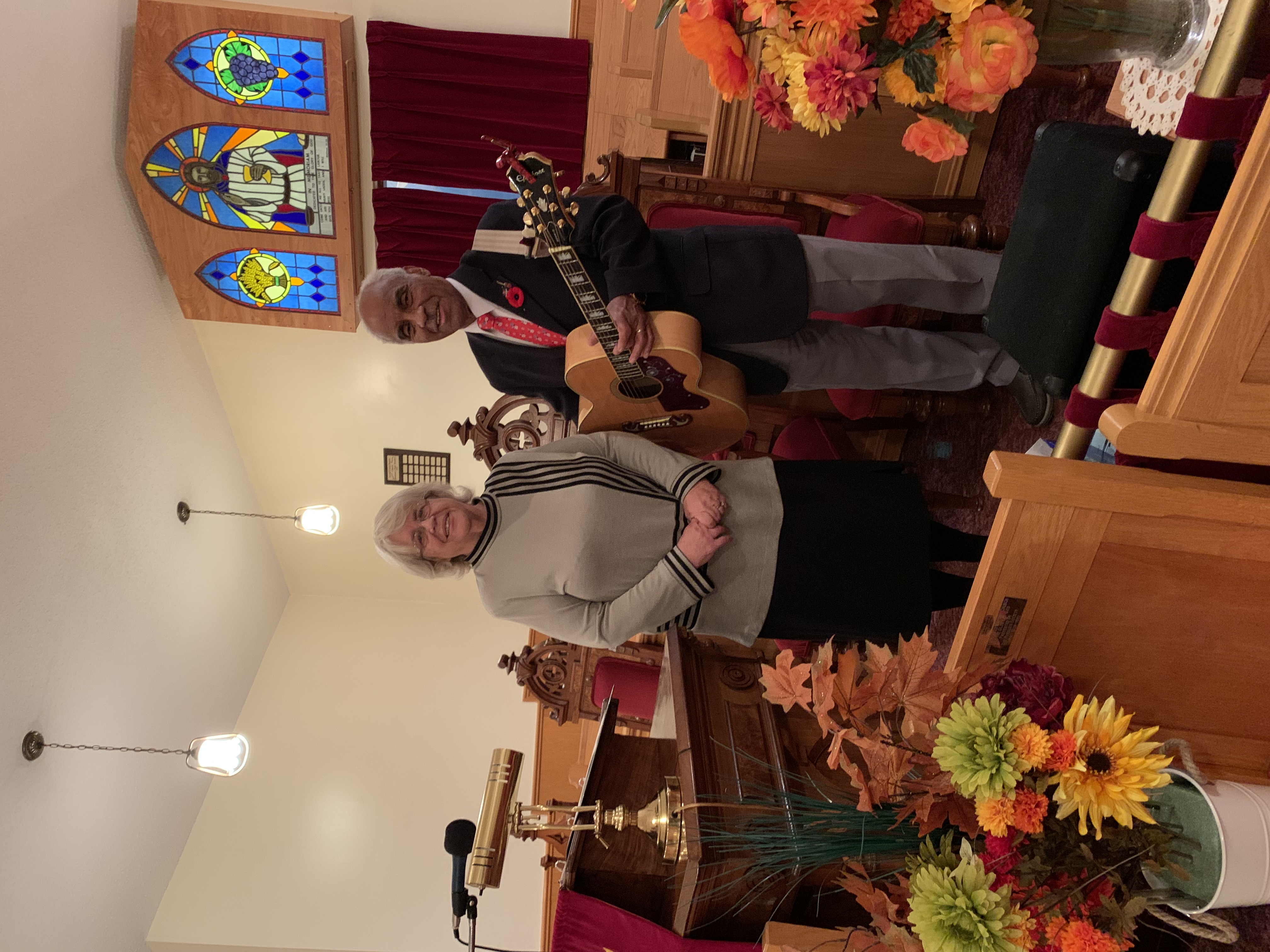 Brian & Brenda Bowden
Brian and Brenda Bowden have been involved in music for most of their lives, beginning in church.  They have been involved in many different choral groups and have performed in various communities locally and beyond.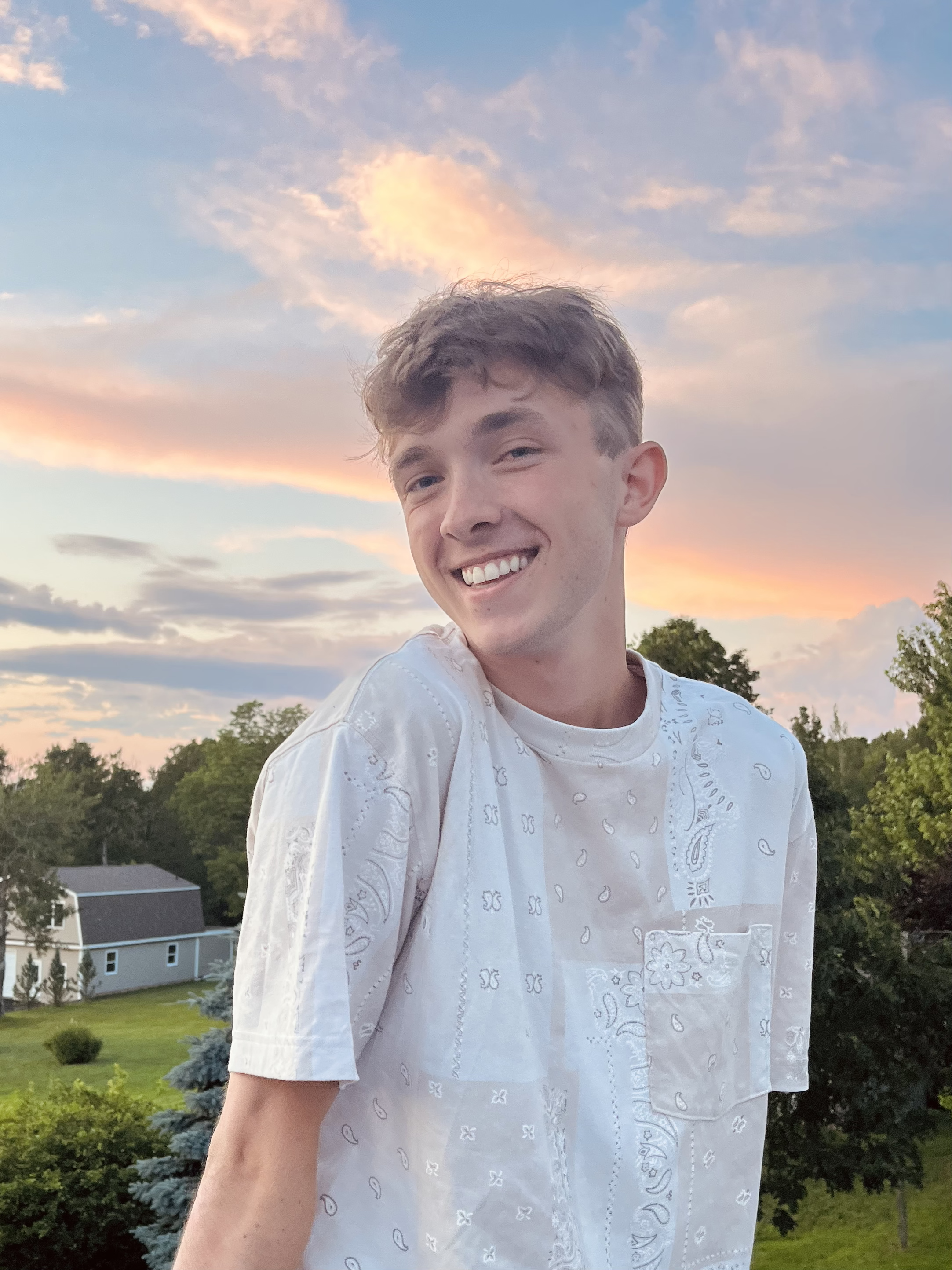 Justin Skinner
Justin Skinner is 18 years old and currently studying Life Sciences & Biochemistry at Queens University. Justin grew up in Pictou County involved in many musical activities, including numerous musical productions at NNEC, the Rotary Club production of The Sound of Music, the New Glasgow Music Festival, and many more. Aside from his studies, Justin likes to spend his free time playing the piano and volunteering within the community.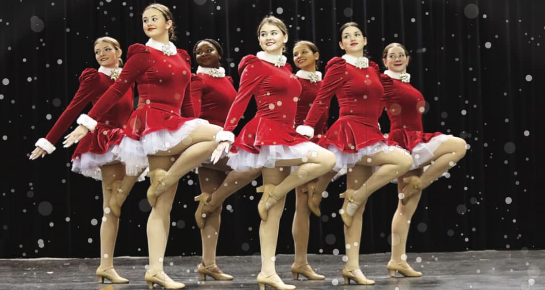 Miss Carla's Dance
Miss Carla's Dance students have been busy getting ready for the annual Christmas Spectacular, which is taking place December 10th at NNEC.  If you're looking for a fun way to get into the Christmas spirit, this show is for you!  Tickets for A Christmas Spectacular are available for purchase at Miss Carla's Dance.  Catch a sneak peek of the Christmas Spectacular on the 2022 telethon!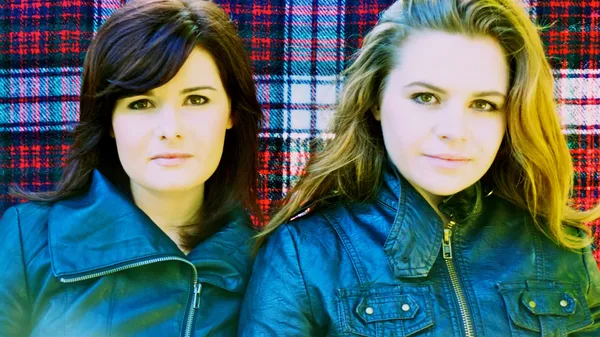 Cassie and Maggie
Nova Scotian sisters Cassie and Maggie have been lighting up the world with their unique blend of traditional and contemporary Celtic instrumentals and vocals. Appearing on stages across North America, the UK, and Europe the UK, and Europe the sisters have enchanted audiences far and wide with lively fiddle, piano and guitar arrangements, stunning sibling vocal harmonies in both English and Gaelic, all complemented by their intricate and percussive step-dancing style.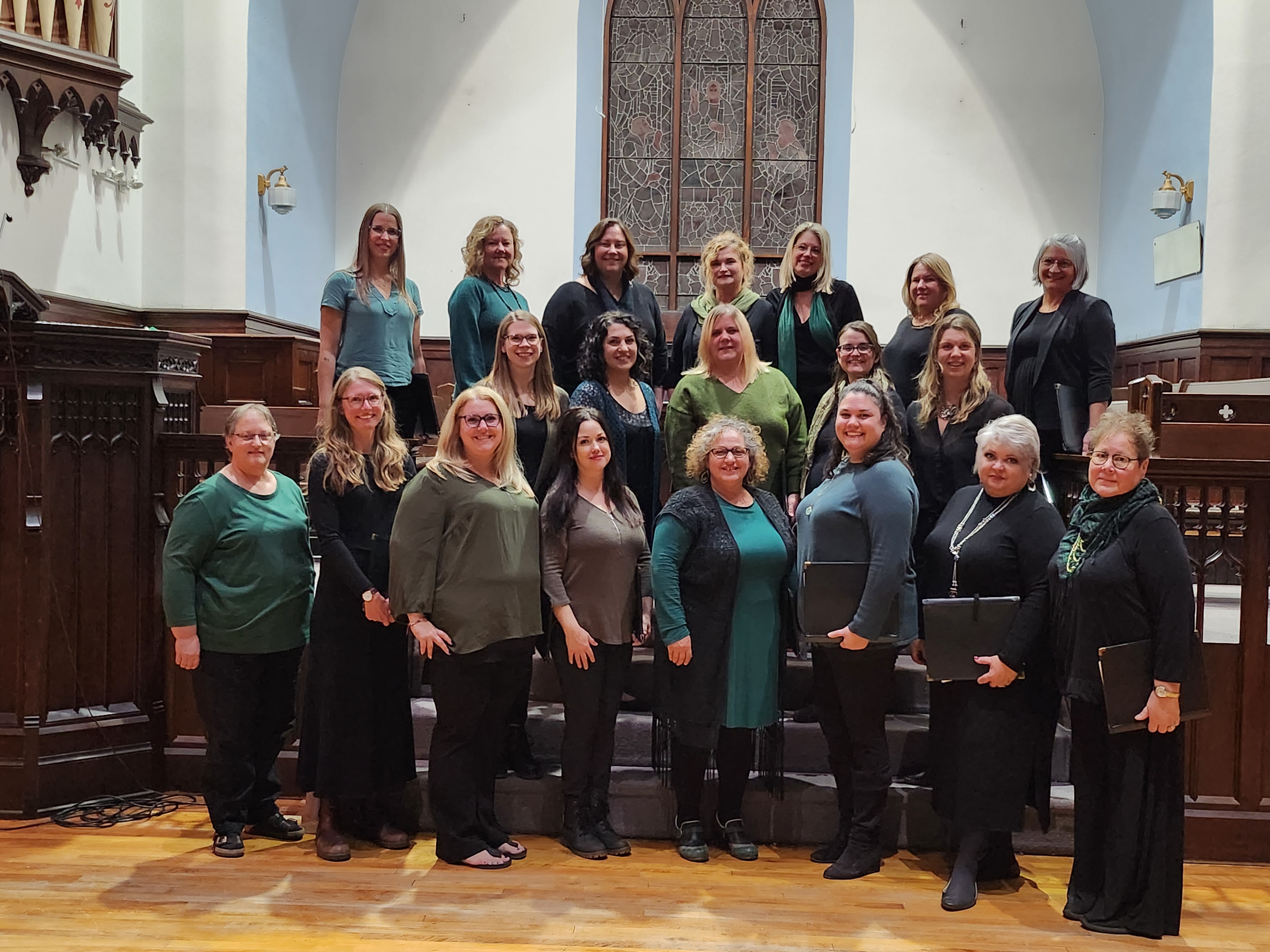 The Carillon Singers
The Carillon Singers, founded in 1993, are an all-female vocal ensemble of professional and amateur musicians. Their unique blend of voices brings songs of varying styles, eras and languages to life. The Carillons have performed in venues throughout Nova Scotia and enjoyed collaborating with many other musical and artistic forces including local jazz ensemble Men About Town, Maurice Poirier, and internationally renowned Soprano Maesha Brueggergosman.  You can hear more from the Carillon Singers at their Annual Old Christmas concert, spring concert and their popular Robbie Burns Evening.  After a long hiatus the Carillons are thrilled to be singing for you once again!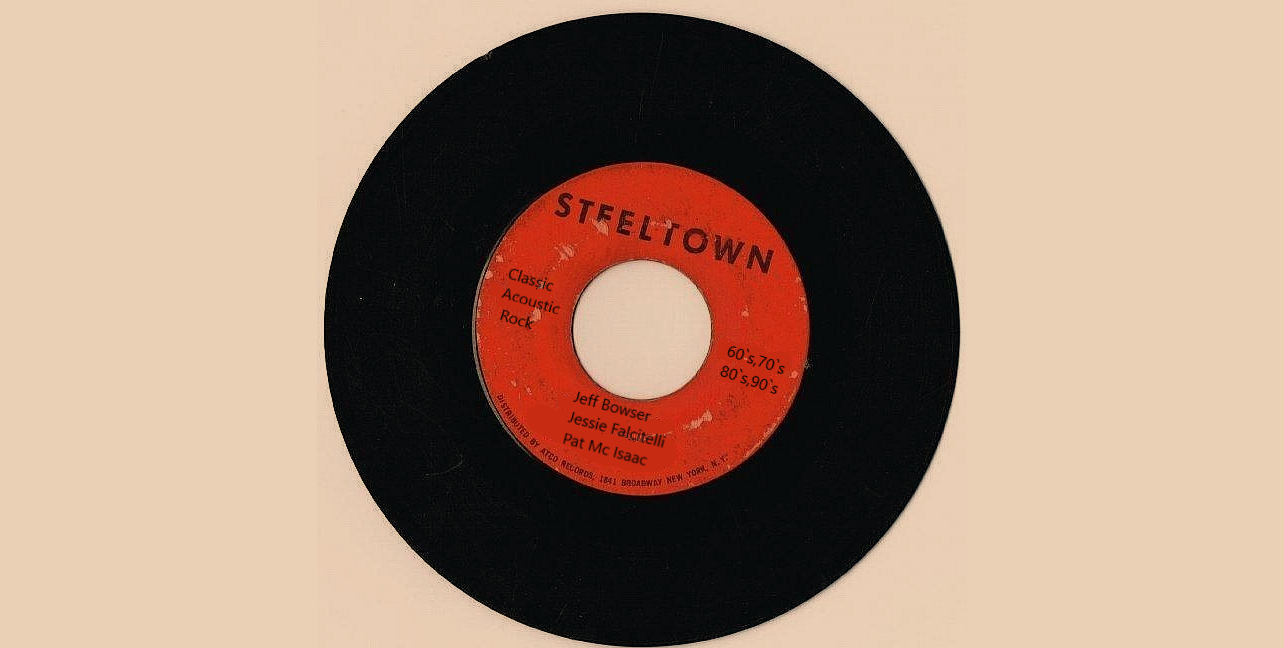 Steeltown
The brand-new group Steeltown is a trio from Trenton, featuring Jeff Bowser, Jessie Falcitelli, & Pat McIsaac.  They will be playing classic rock, at small venues around the county in the very near future!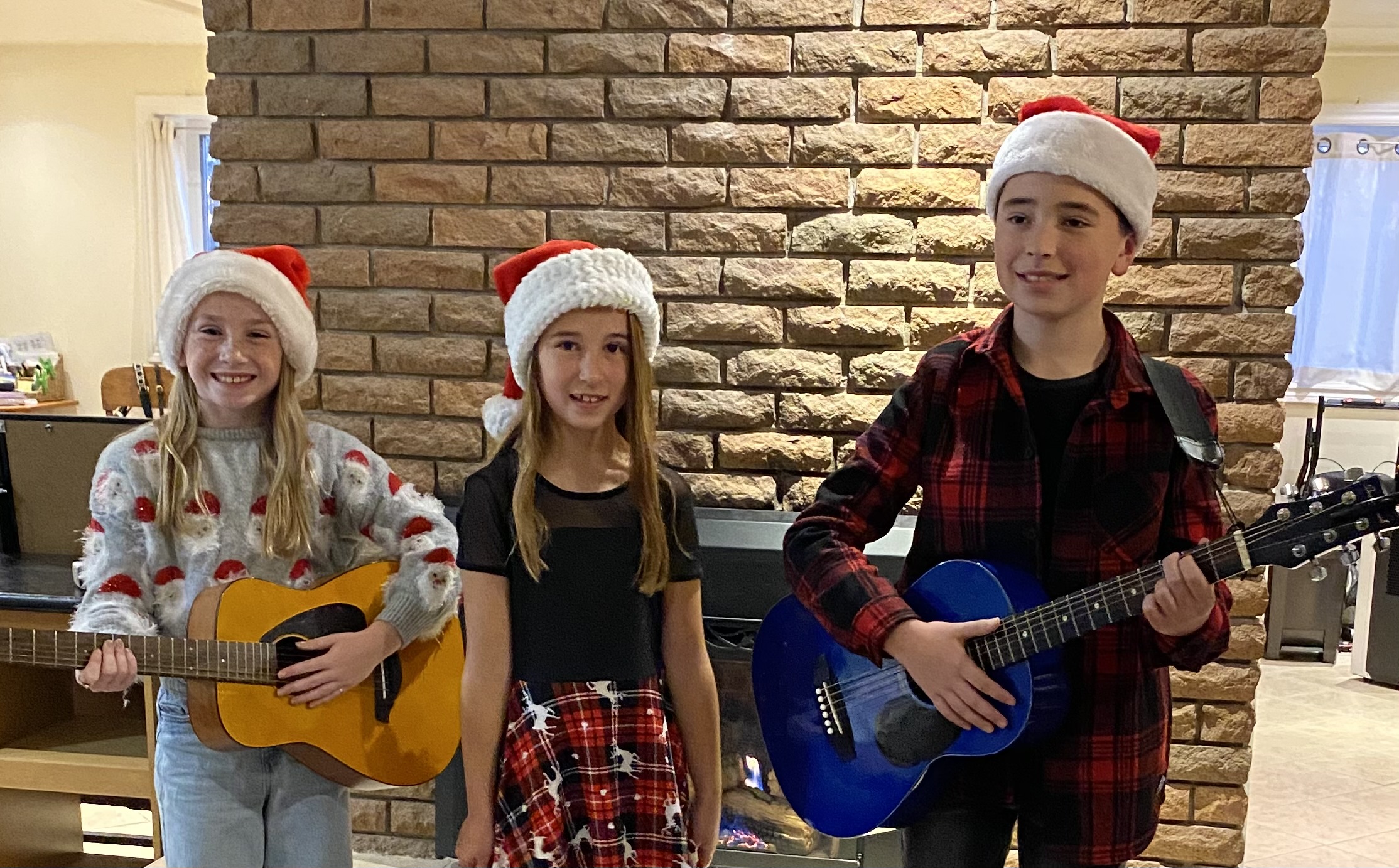 Liam Russell, Hannah Russell, & Avery MacDonald
Avery MacDonald is ten years old.  She enjoys playing guitar, skiing, softball, dance and being with her friends.
Hannah Russell is 9 years old and is in grade 4 at West Pictou Consolidated. Hannah loves gymnastics and singing.
Liam Russell is 11 years old and is in grade 6 at West Pictou Consolidated. Liam loves playing piano and guitar.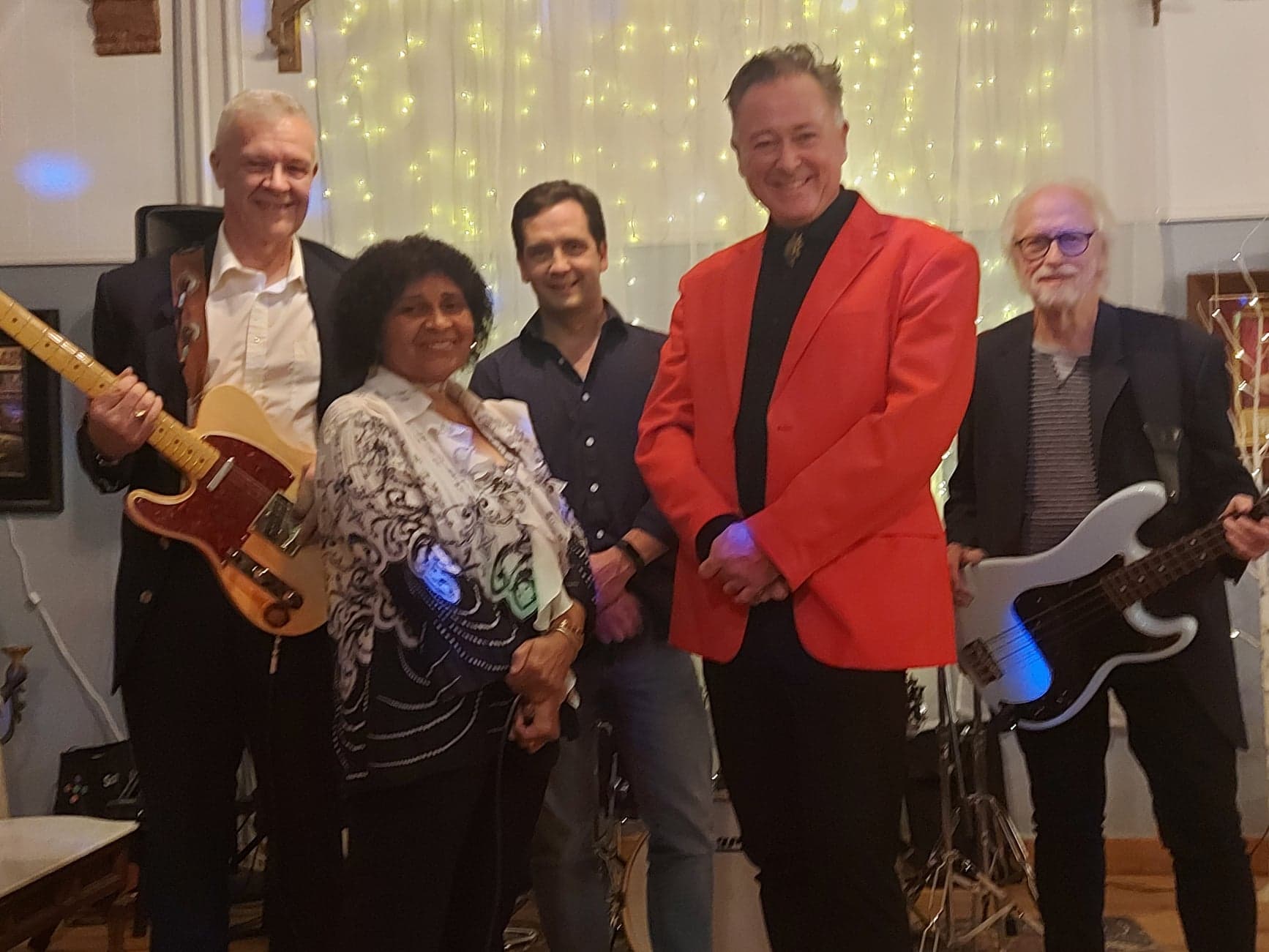 Angela Cromwell, Shaun McLean, Ross Macvicar, Phisch Fancy and Barry Smith
Local musicians Angela Cromwell, Shaun McLean, Ross Macvicar, Phisch Fancy and Barry Smith have been busy this season getting ready for a Christmas show series in early December.  The series is taking place at the venue "Shaun" in downtown New Glasgow.  In addition, there are still some tickets left for A Downton Abbey New Year's Eve, which is a partnership with Tilly's Kitchen and "Shaun". If you like, and follow Shaun on Facebook, you will be informed when tickets to shows become available.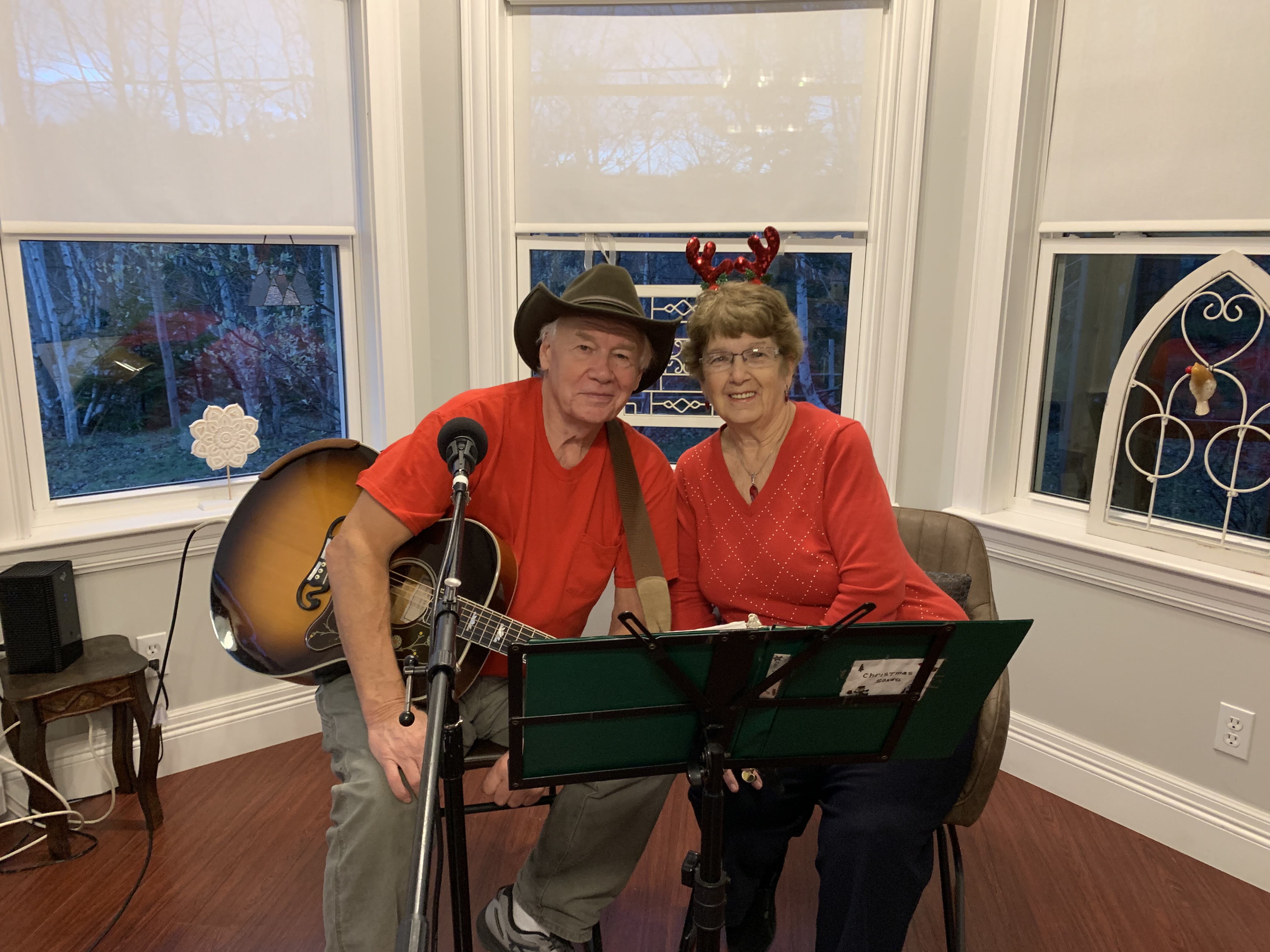 Joyce & John Willems
Joyce & John Willems from Hopewell have been performing in Pictou County for several years, including on the P.E.I Ferry "Music On The Deck" and at the Pictou Marina.  They also love to perform at variety shows, musical jams, and at local retirement homes.  They are scheduled to play at the Maples in Antigonish.  They have been married 56 years.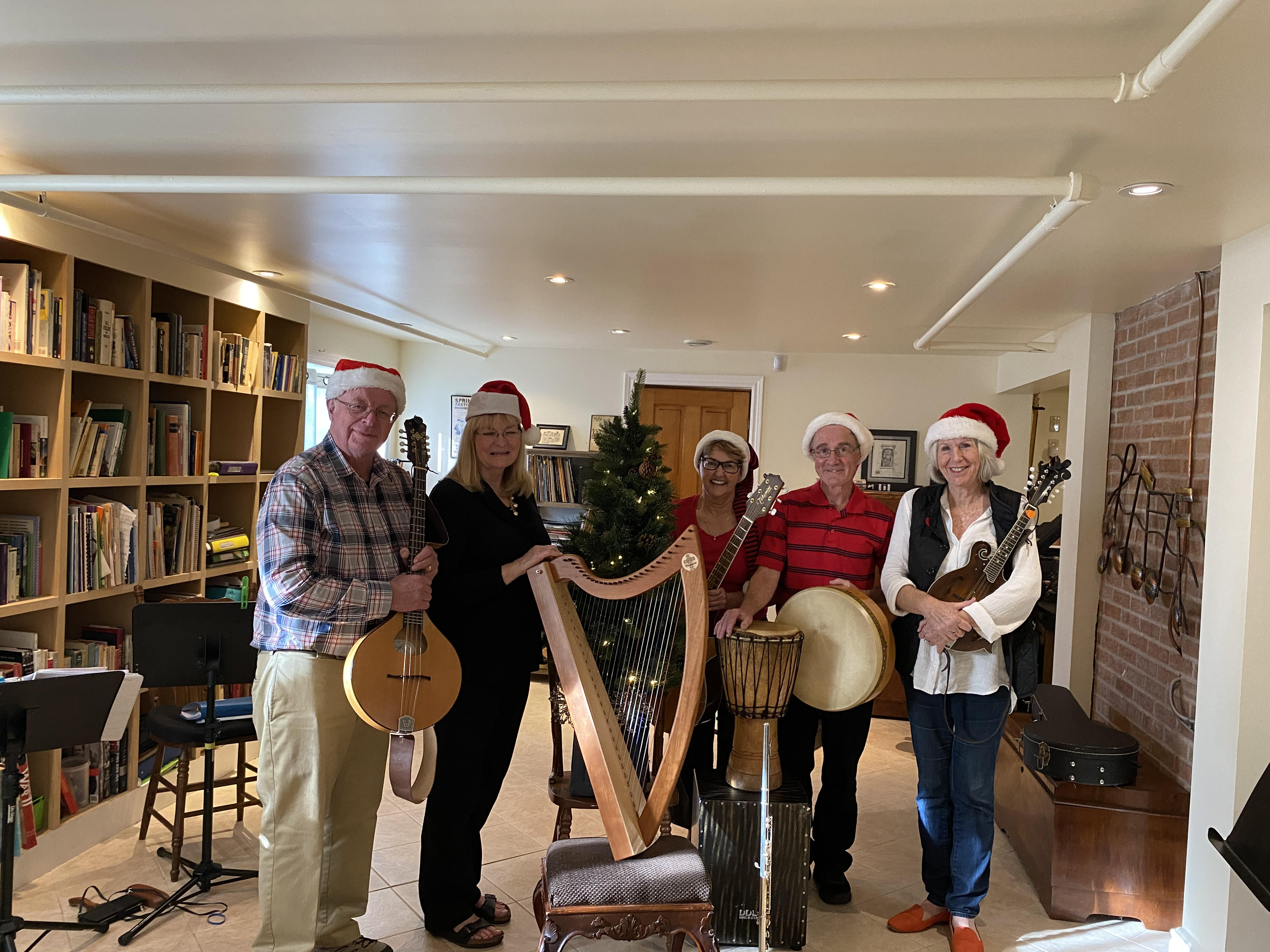 Plink!
When two mandolins, guitar and harp get together you have nearly 50 strings sounding at the same time.  This creates intricate layers of sound, with each instrument adding its own "plinking" sound to the mix. And when you add harmony, and drum, you have the sound of the next group, who simply call themselves "Plink"!  Members include Merton Arbuckle, on drums, Allan MacDonald on Octave Mandolin and Mandolin, Cathy Fraser on Mandolin, Janet Proudfoot on guitar, and Joanne MacDonald on Harp, Flute, Whistle and Mandolin.

African Nova Scotian Performing Arts Group
The African Nova Scotian Performing Arts Group was established in December 2018 by African Nova Scotian staff at NNEC. The group is set on providing an opportunity for students to experience the best of African Nova Scotian history and culture through drumming, dance and spoken words.  Drums are an integral part of African life, physically, emotionally, and spiritually. African Drumming is not a means of entertainment, rather, it holds a deeper symbolic and traditional meaning. Drums are used to communicate, celebrate, mourn, and inspire.  Drums have been such a massive part of African life and experience that it pulses through our collective unconscious. It's in our genes. Drums help define our culture.  When the trans-Atlantic slave trade scattered people of African Descent throughout the world; names, languages and religions were lost, but one thing that was never lost was the drum.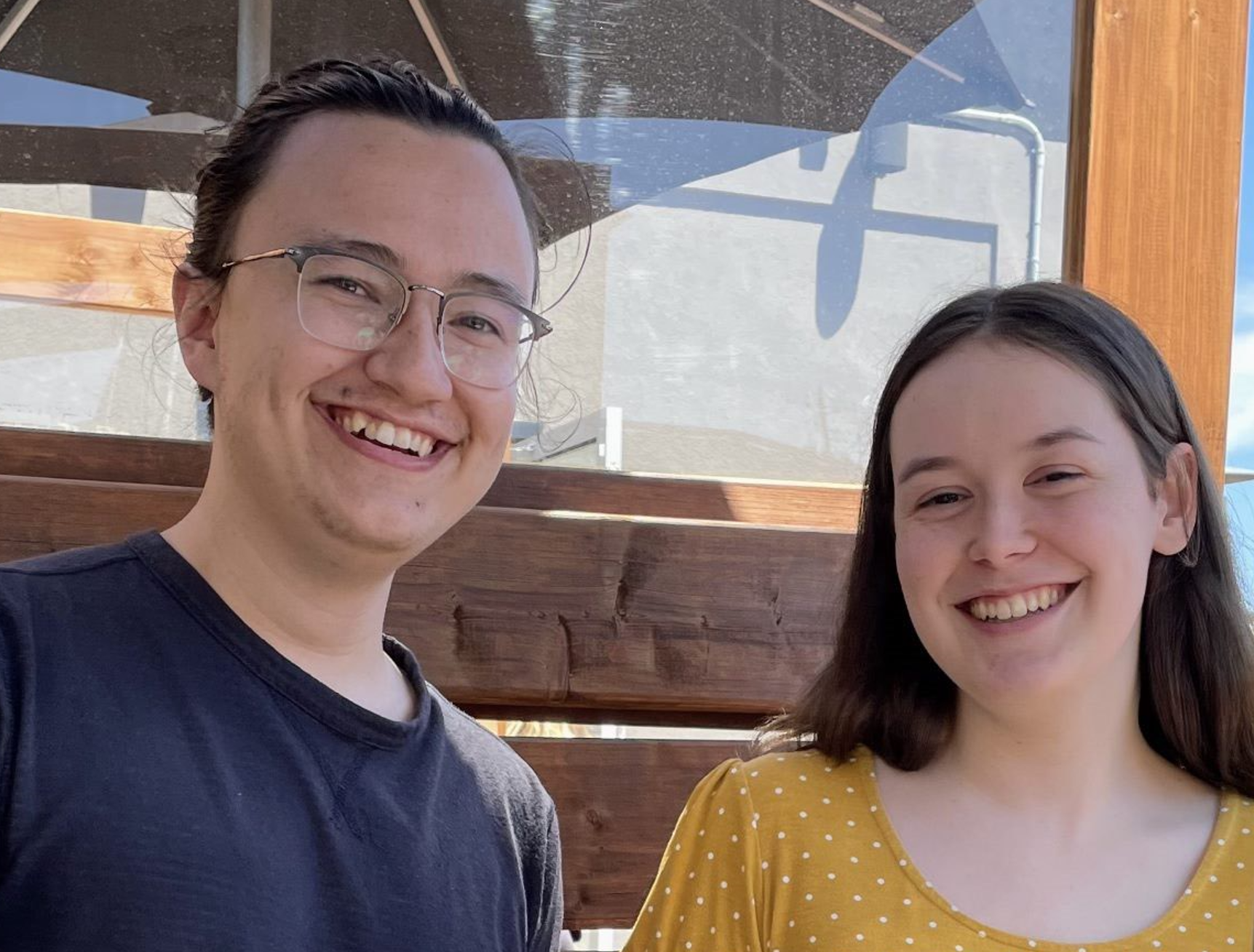 Josiah Pratt & Cameron Osgood 
Josiah has been dedicated to music since childhood. He is currently studying music at Acadia university where his love of the art was re-established. He has recently joined a guitar quartet in Wolfville. Cameron has been singing since she could talk and loves giving back to her community by sharing music. She studies Arts at the University of Kings College in Halifax and is involved with the music, dance, and theatre scene at Kings and Dalhousie.  They would like to thank Facetime and Maritime Bus for helping them stay connected during the school year.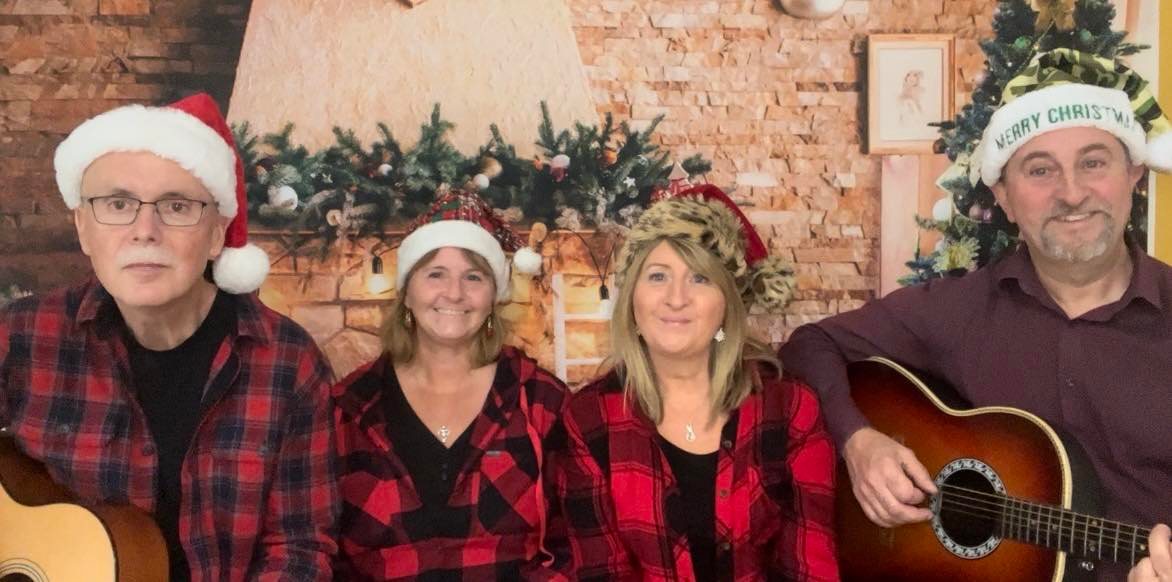 Hal, Diana, Anne, & Dave
When David Joyce, Anne Marie Joyce (Madore) and Diana Joyce (Polley) were young, they were always asked by their father -the Late Alfred Joyce, to sing at family gatherings, friends' homes, and on Channel 10 on the Felix Burns Show. Their dad was a multi-talented musician, who would play any instrument he could get his hands on, and he was very determined to make sure that his love of music was passed on to his kids. They've been singing and playing together for fun for years. Their sister Anne Madore married another music lover named Hal Madore Jr and the four-part harmony was born. These days, they don't get much time playing together, as life is busy…but they still enjoy singing and playing together at family gatherings.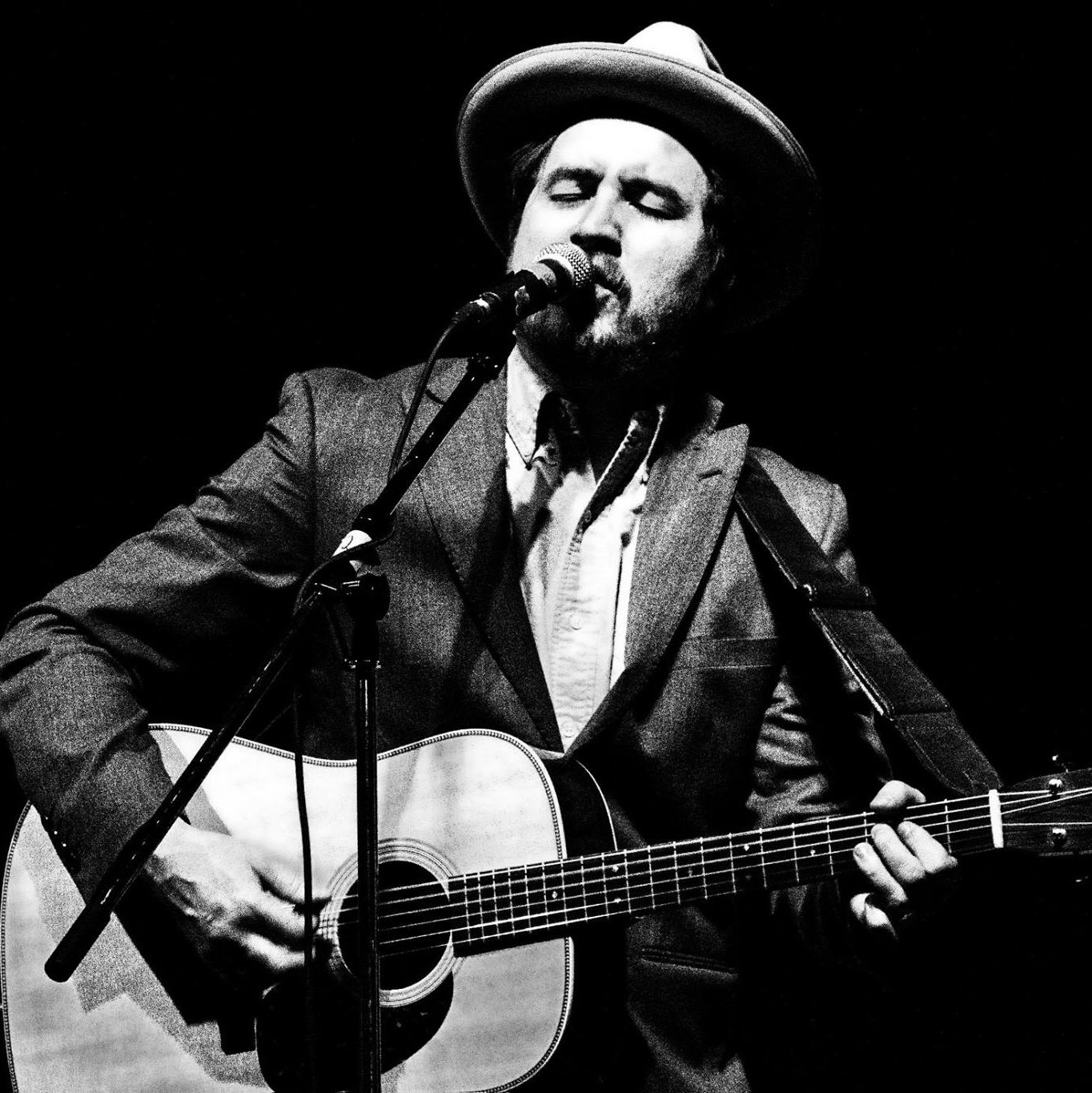 E.B. Anderson
Drawing on the ghosts of predecessors while forging a unique path, E.B. Anderson takes his audience on a journey back to the days before genres defined artistry. Drawing from country, blues, folk and rock, E.B. Anderson formed with backing band The Resolutes in 2010. After releasing the widely acclaimed albums "Broken Down Horse" in 2013 and its follow-up "Cold Ground" in 2015, Anderson took a hiatus from recording new material following the birth of twin boys, Noah and Nash. Now E.B. Anderson is returning with new material, a passion project focusing on the place he was born, raised, and still calls home today: Pictou County, Nova Scotia. Collaborating with Juno nominee, multiple-time Canadian Folk Music and East Coast Music Award Winner, and fellow proud Pictou County native, Dave Gunning, Anderson is set to release his first new material in 6 years.  The first single, "26 Ghosts," was released on April 29/22 to wide acclaim and the follow-up single, "Pictou County Love Song" will be released on November 25/22. The full album, "Pictou County Love Songs," will be released in early 2023.
The Dad Bod Divas
The Dad Bod Divas are a Classic Rock Cover band from Trenton, Nova Scotia who have been playing together since January of 2020.  They started as a backyard party band, then progressed to jamming in the garage on Friday evenings. They were about to start playing live venues when Covid-19 restrictions hit. They began putting video recordings of their Friday Night jams in the garage on the Ultimate Nova Scotia Kitchen Party and received great reviews and comments on their online videos. When restrictions were lifted, the group immediately began finding live venues throughout Pictou County and have been gaining popularity as the audience numbers to their performances continue to increase. They've been able to play for numerous fundraising events, such as Mental Health Nova Scotia, Westville Boxing Club, Viola's Place and the Trenton Middle Home & School Committee. The Dad Bod Divas are: Pat McIsaac - Vocals, Bass Devon MacKay- Drums Dan MacDonald - vocals, guitar Jeff Bowser - Vocals, Guitar Donnie Cullen - Vocals, Keyboards

New Glasgow Academy Jazz Band
Catch performances on this year's telethon by New Glasgow Academy's Jazz Band!  The Jazz Band is under the direction of Mr. Stephen Hartlen.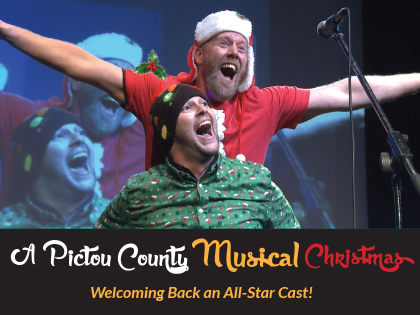 A Pictou County Musical Christmas
The success of the Pictou County Musical Christmas shows featuring the county's top performers has made this show a requested annual tradition. For its third year, this wonderful holiday production returns filled with many Christmas favourites you'll know and love. You'll find yourself singing along! It's one you don't want to miss! The show is coming up at Glasgow Square Theatre on Dec. 9th at 7:30pm. Catch a sneak peek of the show on this year's telethon!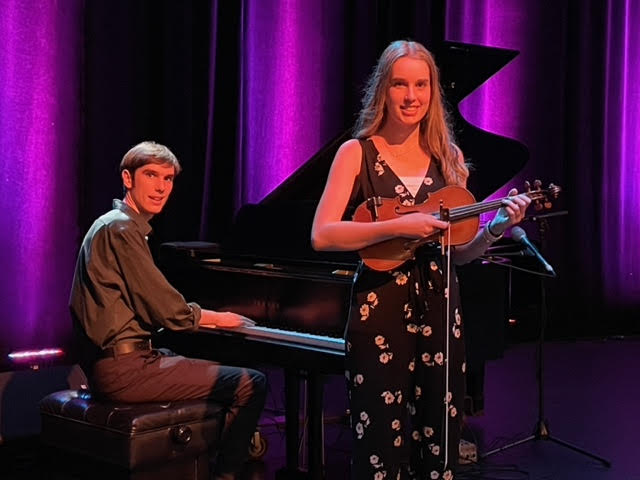 Aucoin Duo
The AUCOIN DUO, is comprised of musicians Pierre and Katey AUCOIN from Stellarton, Nova Scotia. Katey is a Grade 12 student at Northumberland High School and Pierre is currently in his second year at UPEI.  The teenage siblings have been performing for a decade having started lessons at an early age. In this short time span they have developed a passion for a broad repertoire of music styles including Cape Breton, Celtic, Old Time, Irish, Modern and Classical. The familial bond is evident in their performances, and they have gifted venues throughout the province with their music.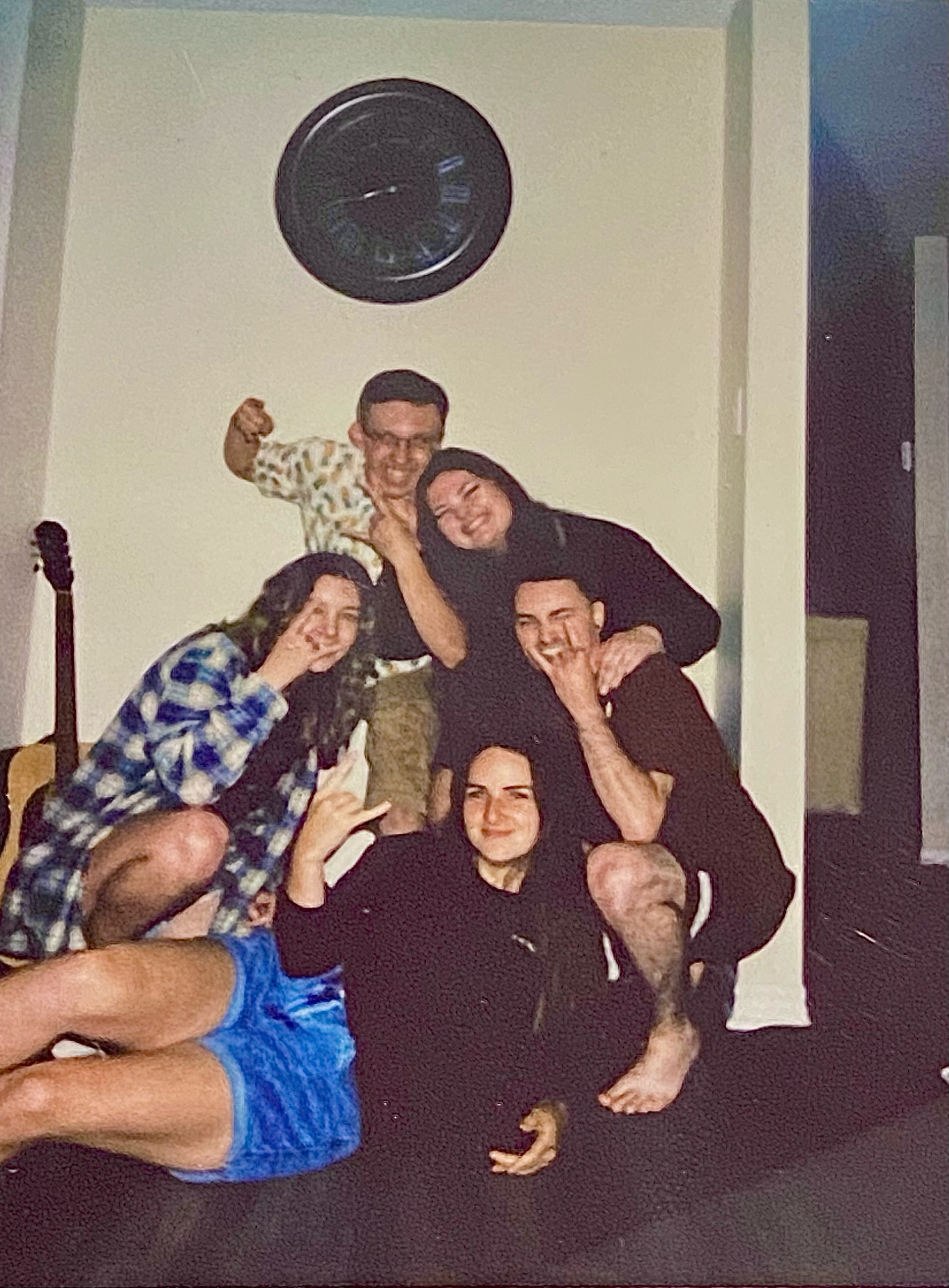 Tutti
Tutti is a five-piece female-fronted rock band backed with a groovy, Rush-inspired rhythm section. Hailing from northern Nova Scotia, this group brings you ear-worm originals that meld Classic Rock and Alternative with a Southern spin. Playful yet introspective, Tutti's lyrics take a deeper look at life around you, blended with a sound that makes you need to get up and move; drawing inspiration from the writing styles of Paramore, Chris Stapleton, Def Leppard and Led Zeppelin.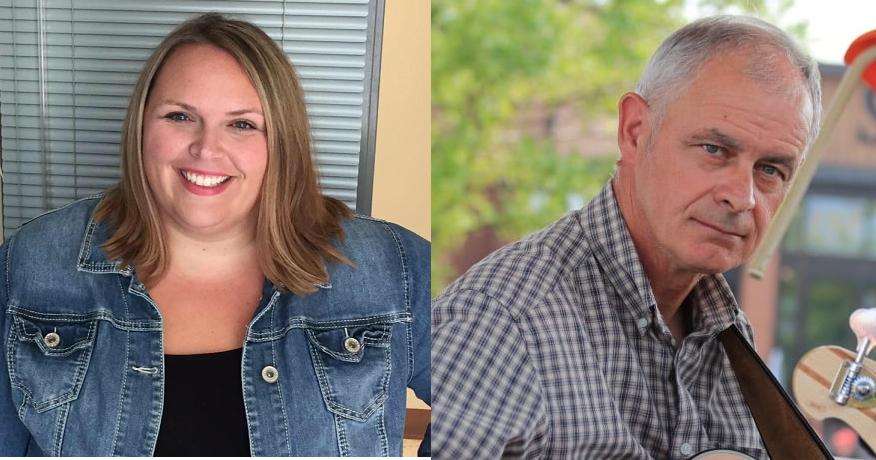 Erika Sloan & Ray Stewart
Erika grew up in Pictou County, teaching at NSCC in Stellarton (she really loves her job!) Ray and Erika jam weekly with a music group comprised of staff and students every Monday at lunch at NSCC in the common area, they do shows monthly at Paul Quinn recreation Center and frequent Valley View Villa to do music for the residents, and Erika is a proud member of the Merigomish based ukulele group "Uke can do it".  Ray Stewart released his first solo album "Through These Doors" a number of years ago and is always a favourite of fans and fellow musicians alike.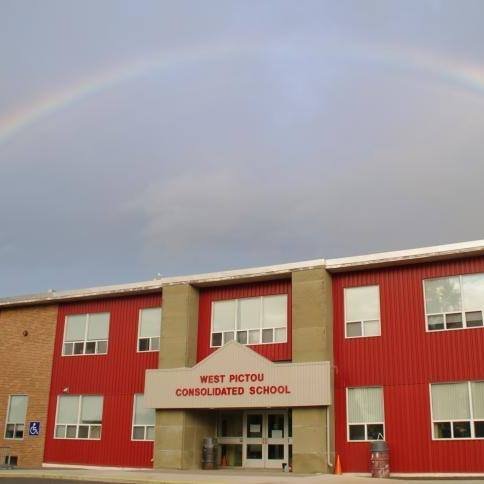 West Pictou French Immersion Group
Performing on this year's telethon is a group of grade 4 and 5 students in the French immersion program at West Pictou. Under the direction on Ms. Emmy Tremblay, the students will be sharing 2 Christmas songs, in English and French! 

Brady Kennedy
Local singer/songwriter Brady Kennedy from Pictou began playing guitar in high school. He then went on to Acadia university where he studied classical guitar for two years.  He will be performing an original Christmas song on this year's telethon!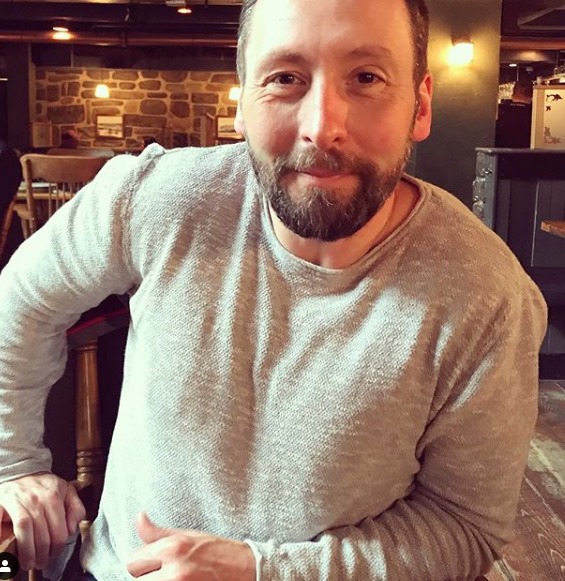 Jason Brushett
Making fans wherever he goes, Jason has become a fixture on the local music scene. Over the years, he's played for a wide array of audiences from the deCoste Centre to the Thistle, music festivals, and kitchen parties too! Although he hasn't been playing in public too often these days, he doesn't hesitate to share his musical gift when there is a gathering going on and guitar nearby.
Catch virtual performances this year by tuning in on Eastlink Community TV, channel 10 on Sunday, November 27th from 1pm-6pm. You can also "Listen Live" at pictoucountychristmasfund.ca
Thank you for Christmas Sharing in our community!